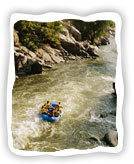 The Kali River drains some of the world's tallest mountains, and carries with it the melting snow of the majestic Himalayas on a relentless rush to the sea. For part of its course, in its upper reaches, the Kali forms the international border between India and Nepal. A self-contained river journey down this river is one of the prime options in this part of the Himalaya. The river flows past terraced farms of Kumaoni and Nepali villages, fresh water streams, sandy beaches, thick tropical jungles, hillsides of stalactite and stalagmite formations, riverside tea stops and plantations as we travel downstream through the Terai belt negotiating exciting white water rafting. With the Mahseer making it an angler's delight, the lack of road access makes it a complete wilderness journey. After the first few Days of serene float past its confluence with the Saryu at Pancheshwar (also a famous fishing spot) with the occasional big rapid, the Kali makes its final descent to the plains in the last Day on river, beginning with the mighty Chooka rapid. Flowing past the Terai hills after densely forested hillsides, this trip is an outdoor wilderness experience in a league of its own.
Detailed ItineraryDay 1 : Delhi - Kathgodam
Board overnight train Ranikhet Express from Delhi for Kathgodam.
Day 2: Kathgodam - Pithoragarh
Arrival in Kathgodam at 0610 hrs. Drive Kathgodam to Pithoragarh (7 hrs). Overnight at Hotel/Tourist Rest House.
Day 3: On the river Drive
Pithoragarh to put-in point at Jhulaghat (2 hrs). Raft an initiation stretch of 15 kms of Class II+ rapids passing many stalactite and stalagmite formations. Camp by late afternoon and hike to nearby village. Overnight stay in camp by the village.
Day 4: On the river
We pass Pancheshwar where the Kali meets the Saryu, and is now called the Sarda. We camp below the confluence for a relaxed afternoon. Angling for the Golden Mahseer is an exciting option. Hike into Pancheshwar village. Overnight Camp.
Day 5: On the river
Negotiate a series of Class III rapids. This Day one passes through thick jungle and rarely gets to see any human population. Camp overnight.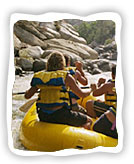 Day 6:
Rest Day to explore the surroundings, hike and relax.
Day 7: On the river
Raft 20 kms through a number of big and bouncy rapids including a big Class IV rapid at the village of Chuka, where Jim Corbett shot the famous Chuka man-eating tiger. Overnight camp below the rapid.
Day 8:
We begin to enter the Terai jungles toDay with great white water rafting and the chance of spotting some wildlife like wild elephants, etc. End the stretch at Boom and drive to Kathgodam. Overnight Ranikhet Express to Delhi.